Are you celebrating the 4th of July with little ones? Try out these simple yet fun experiments to celebrate the 4th of July.
Slime
Materials
6 oz bottle of glue- white, glitter, clear (add food coloring to white or clear glue for colorful slime). We used glow in the dark, color changing, and glitter glue
1⁄2 tsp baking soda
1⁄4 cup water
Small add ins such as glitter, sequins, confetti. We used glitter and confetti
1 1⁄2 Tablespoons contact solution ( you may not use all of this)
bowl
Wooden spoon or craft stick
Pipette or syringe
Zip close bag
Directions
Squeeze glue into bowl. If using food coloring, add 5 to 7 drops. Use red or blue food coloring for 4th of July themed slime. Mix the food coloring into the glue.
Add baking soda to bowl and stir until well mixed.
Add water to bowl and stir.
If using small add-ins such as glitter or confetti, add them to the bowl. Stir.
Slowly add in contact solution. Add small amounts at a time and stir in between. You don't want to add too much or too quickly as this causes the slime to get hard. Using a syringe or pipette can help you add a little at a time. You may not end up using all the contact solution.
The slime should start sticking to itself by now. Time to kneed and stretch the slime with your hands. This will get messy and the slime will be sticky. Keep kneading and stretching until the slime becomes more solid and stretchy but less sticky.
If your slime is still too sticky, add more contact solution. Keep kneading and stretching your slime. You don't want your slime to stick to your hands. It should stay together when stretched.
Have fun playing with your slime! Store in a zip close bag when you are done.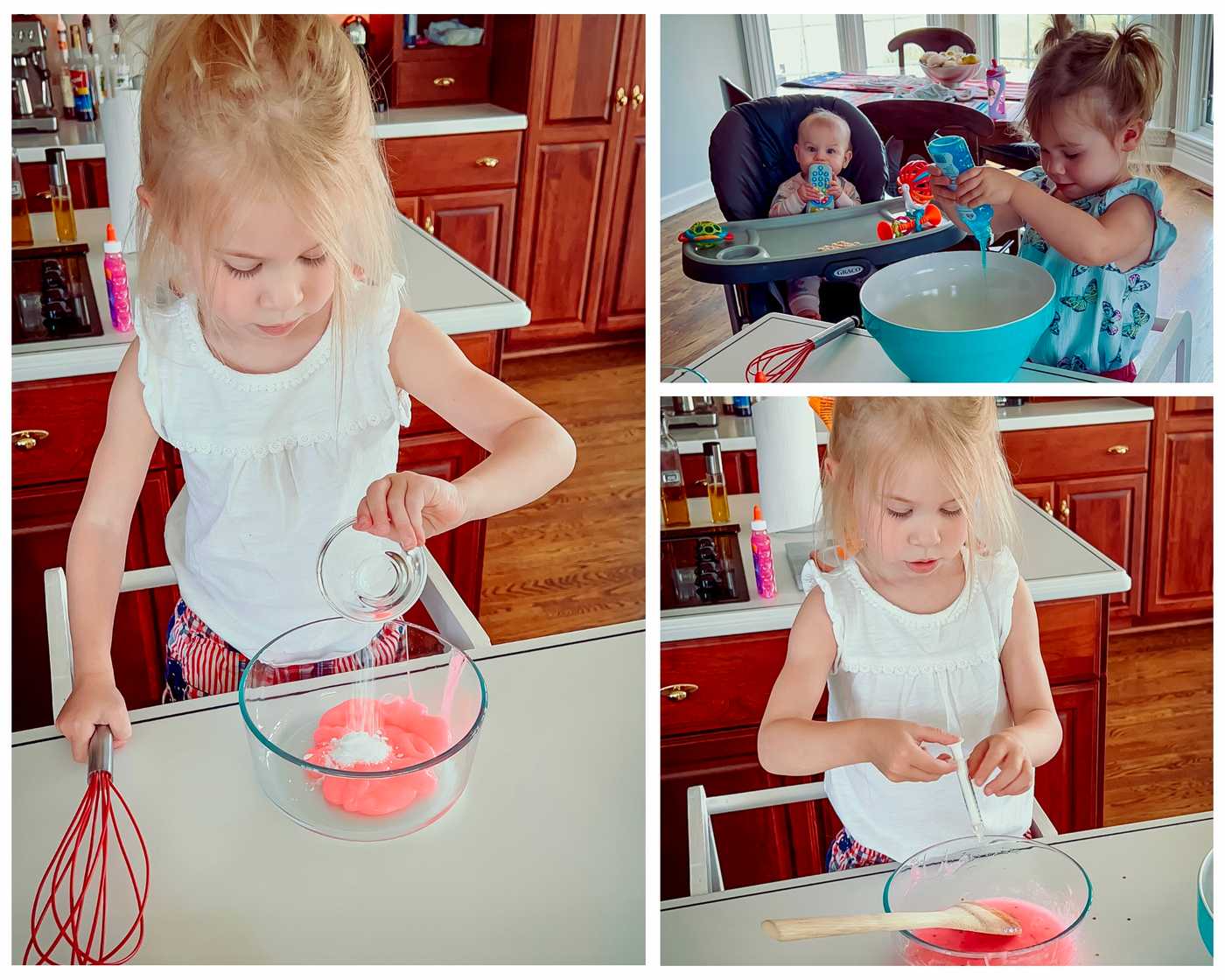 Fireworks in a Cup
Materials
Oil
Food coloring
Clear cup/glass. We used a vase
Warm water
Fork
Bowl or measuring cup
Directions
Fill 3⁄4 of the clear cup or glass with warm water.
In a bowl or measuring cup, add oil. We used about 1⁄2 cup.
Add about 5-10 drops of food coloring. We used red and blue food coloring for 4th of July.
With a fork, break up the drops of food coloring into smaller drops.
Slowly pour the oil and food coloring into the cup/glass with warm water.
Watch the firework show!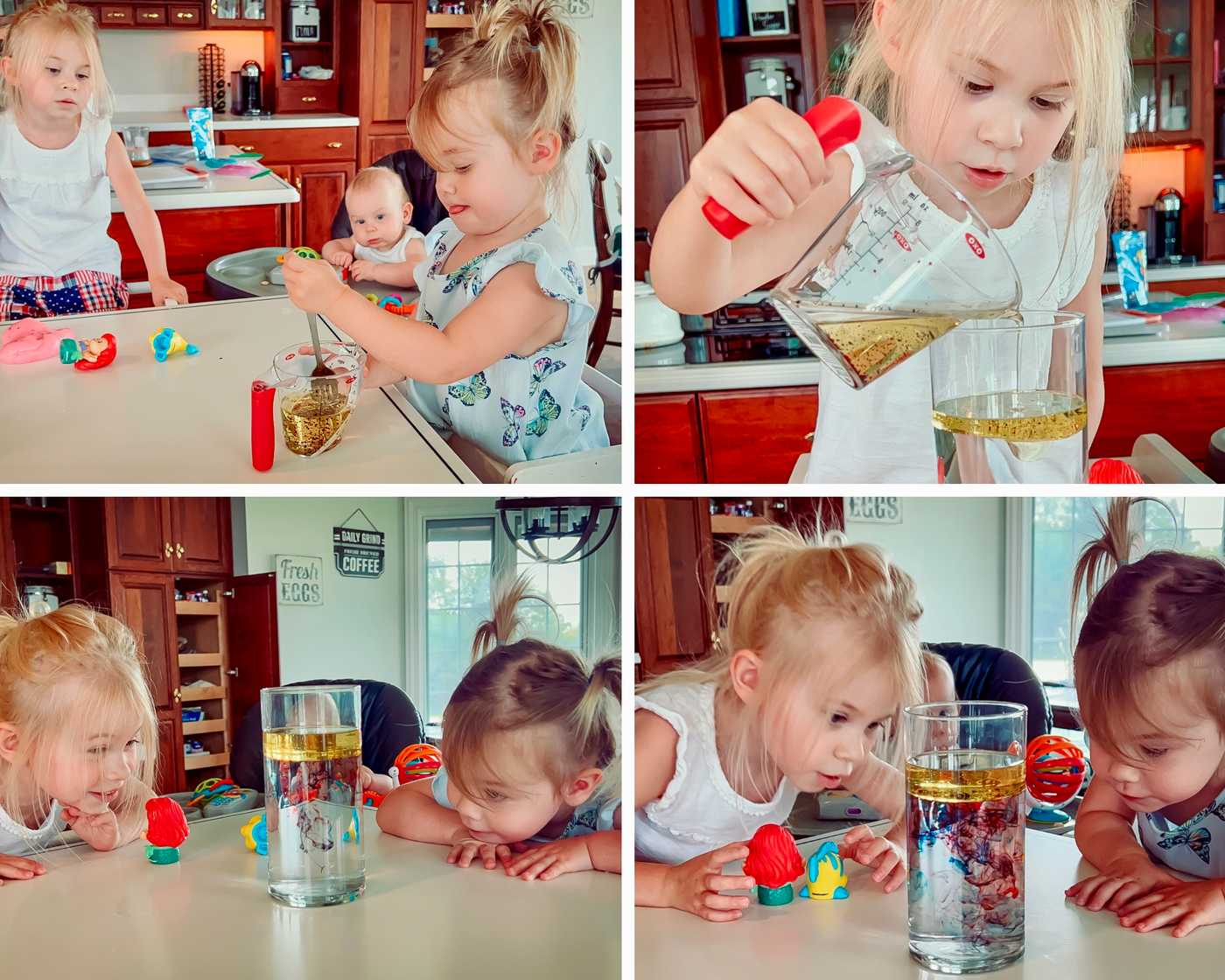 Exploding Bags
Materials
Zip close bags. We used quart size bags
Vinegar
Food coloring (blue and red for 4th of July)
Baking soda
Directions
Add vinegar to the zip close bags. I added enough vinegar to cover 1⁄4 of the bag. We did 4 exploding bags. You may want to do multiple as the reaction happens quickly and you might need to practice a few times. It took me three times before I was quick enough.
Add food coloring to the vinegar for a more colorful explosion.
Go outside. This reaction will cause the bags to pop open and the contents to spill out so you probably want to do this activity outside.
Prepare yourself to move fast. Have your baking soda and bag of vinegar ready. I had small cups baking soda ready to dump into each bag.
Dump the baking soda into the bag fast and quickly zip the bag close. The reaction will happen quickly and cause the bag to pop open. It is a bit loud when the bag pops open so you may choose to warn or prepare your children ahead of time.
Repeat over and over and experience the thrilling fun!
Benefits
Science exploration
Language development as you talk about what is happening
Social interactions
Learn about the 4th of July (why do we celebrate, how do we celebrate, etc)