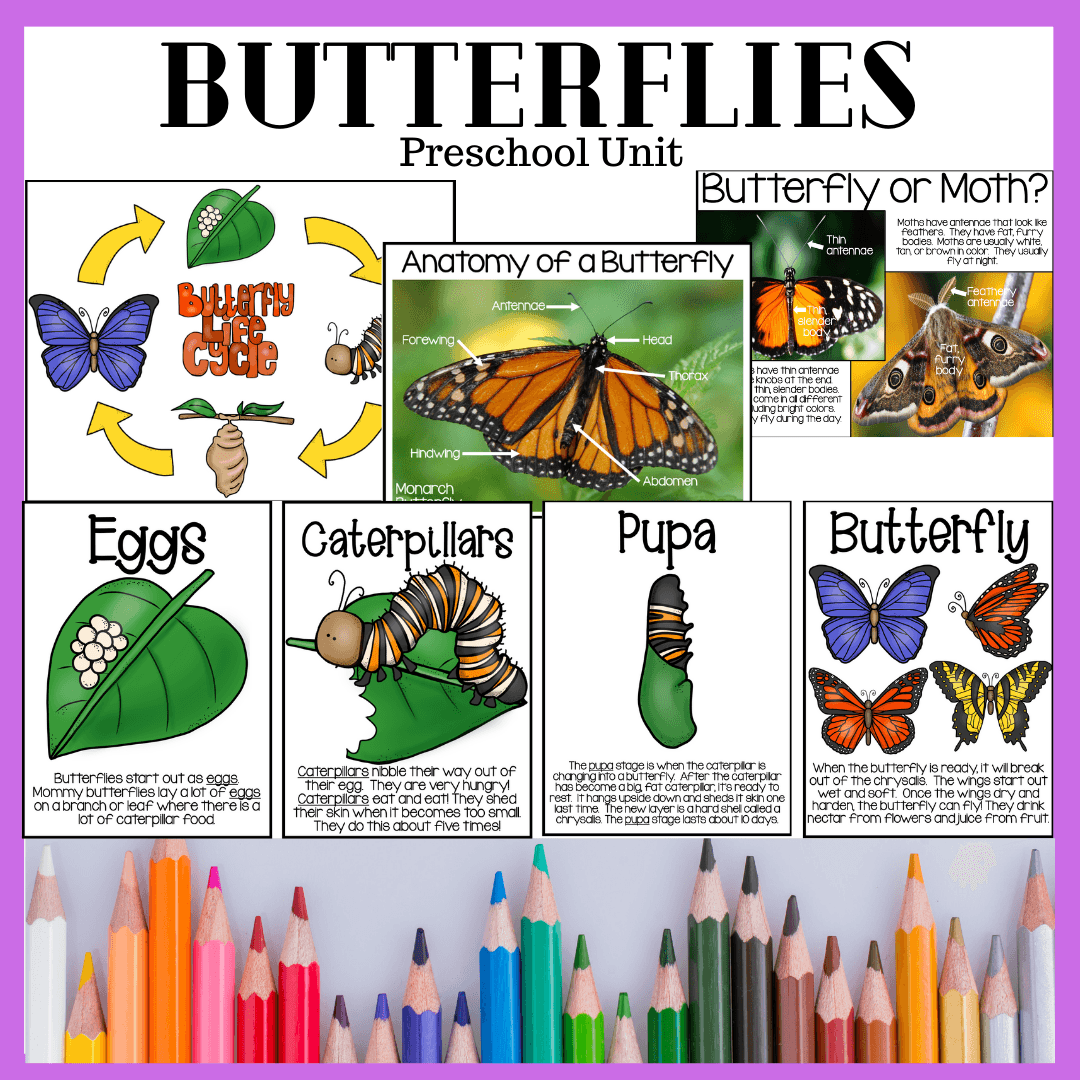 June was an exciting month for us because we got to watch the butterfly life cycle in real life. We started the month with caterpillars and by the end of the month we were releasing our butterflies into our garden. Along the way we have been learning all about butterflies. Take a look at the different butterfly activities we did. These activities are great for preschoolers, and pre-k children. You can find the comprehensive, thematic unit here
Butterfly Journal
As we watched the caterpillars grow big and fat then shed their skin as they became pupa to finally emerging as butterflies, we journaled the progress. The girls were so excited to check on the butterflies each day, and each new phase brought a wave of excitement. Each day we journaled, the girls identified which stage the butterflies were in, drew/colored a picture of that stage, and then practiced tracing the name of the phase (caterpillar, pupa, chrysalis, butterfly). Since Riley (4), Olivia (2), and I are all at different places in our fine motor development, I created three different tiers for completing our journals. For Olivia (2), she was given an already made picture of a caterpillar, pupa, chrysalis, or butterfly to glue into her journal and color. Riley is working on tracing on dotted lines, so I gave her pictures she could trace, color, and glue into her journal. The third level is to draw the pictures with no assistance.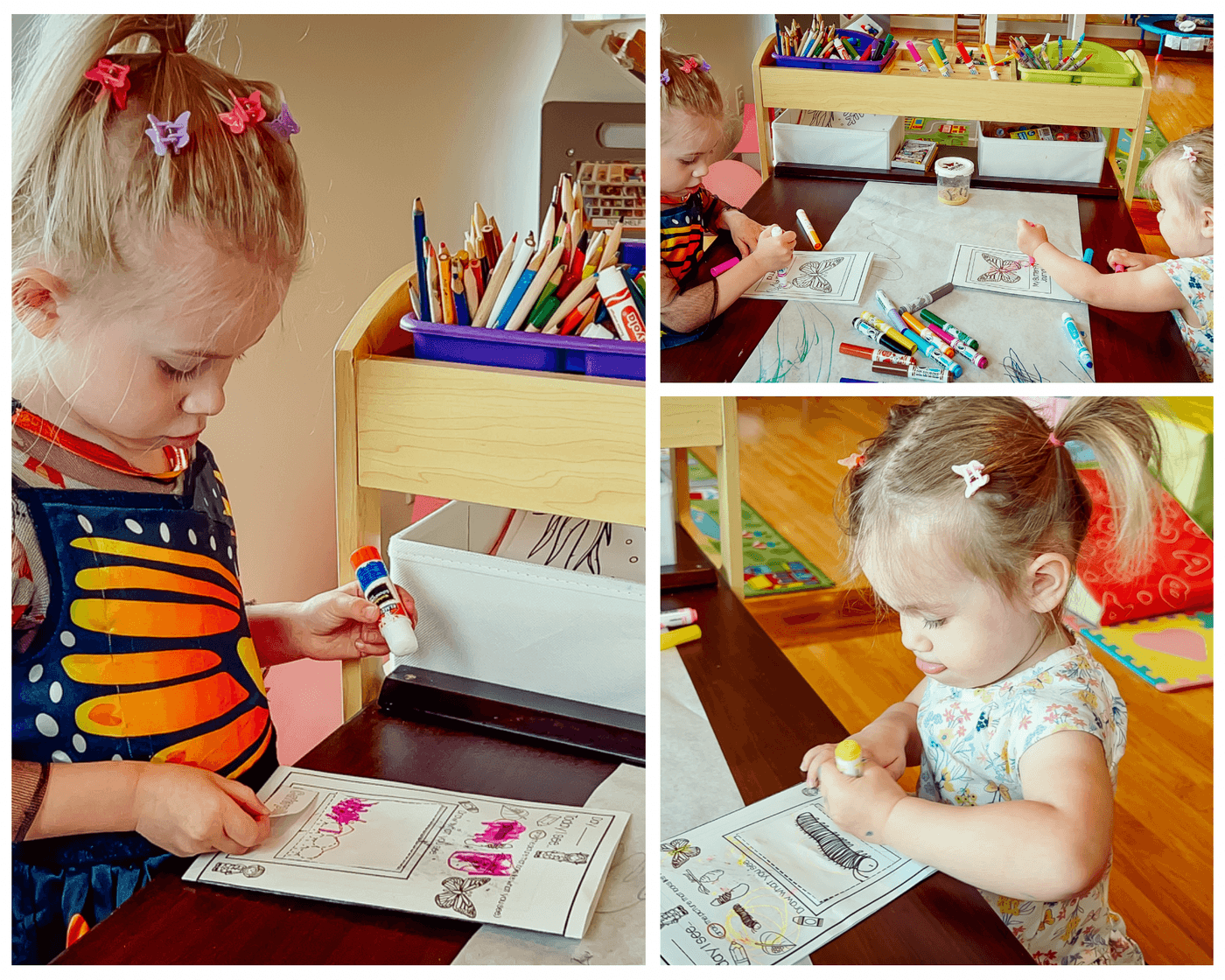 Science Activities
As we were journaling and watching our butterflies grow, we also were learning about them. We read many different books and stories about butterflies. We learned about each stage of the life cycle, the life cycle itself, the parts of a butterfly, and the difference between butterflies and moths.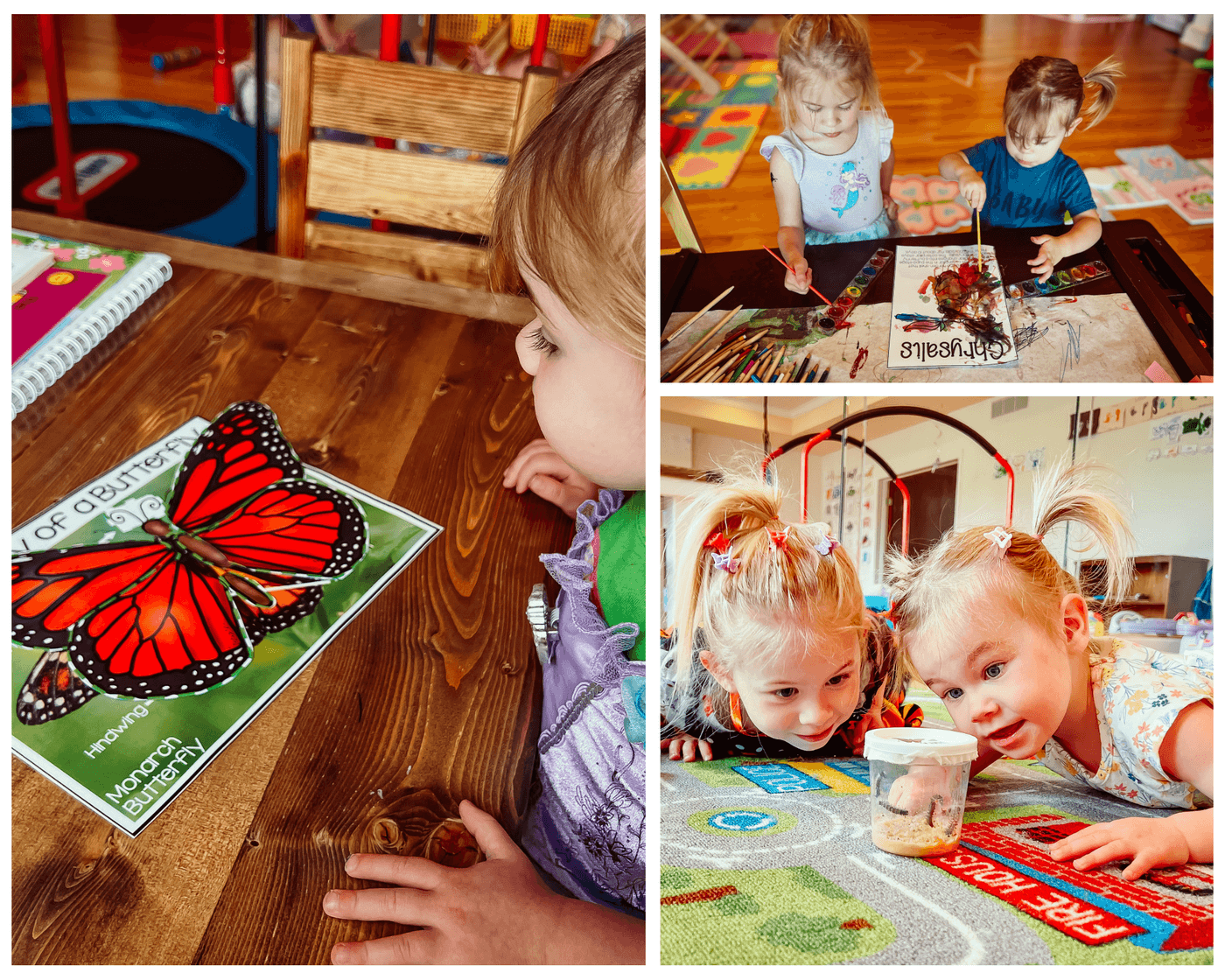 ELA and Fine Motor Activities
Riley is learning about uppercase and lower case letters along with letter sounds. We have also been identifying beginning letter sounds. Since this is a focus area, I created butterfly themed activities to work on these skills. We built playdough creatures to resemble the butterfly life cycle while focusing on the beginning sound of each word: Cc is for caterpillar or Bb is for butterfly. Riley traced alphabet butterflies where she practiced proper pencil grip, forming the letters, and identifying letters in the alphabet. She put together butterfly themed letter puzzles: Ll matches with a picture of a leaf. We read about the butterfly life cycle with a nonfiction text and put the life cycle in order. Riley helped read "Colorful Butterflies" which is a book about colors. Olivia helped identify colors in the book as well.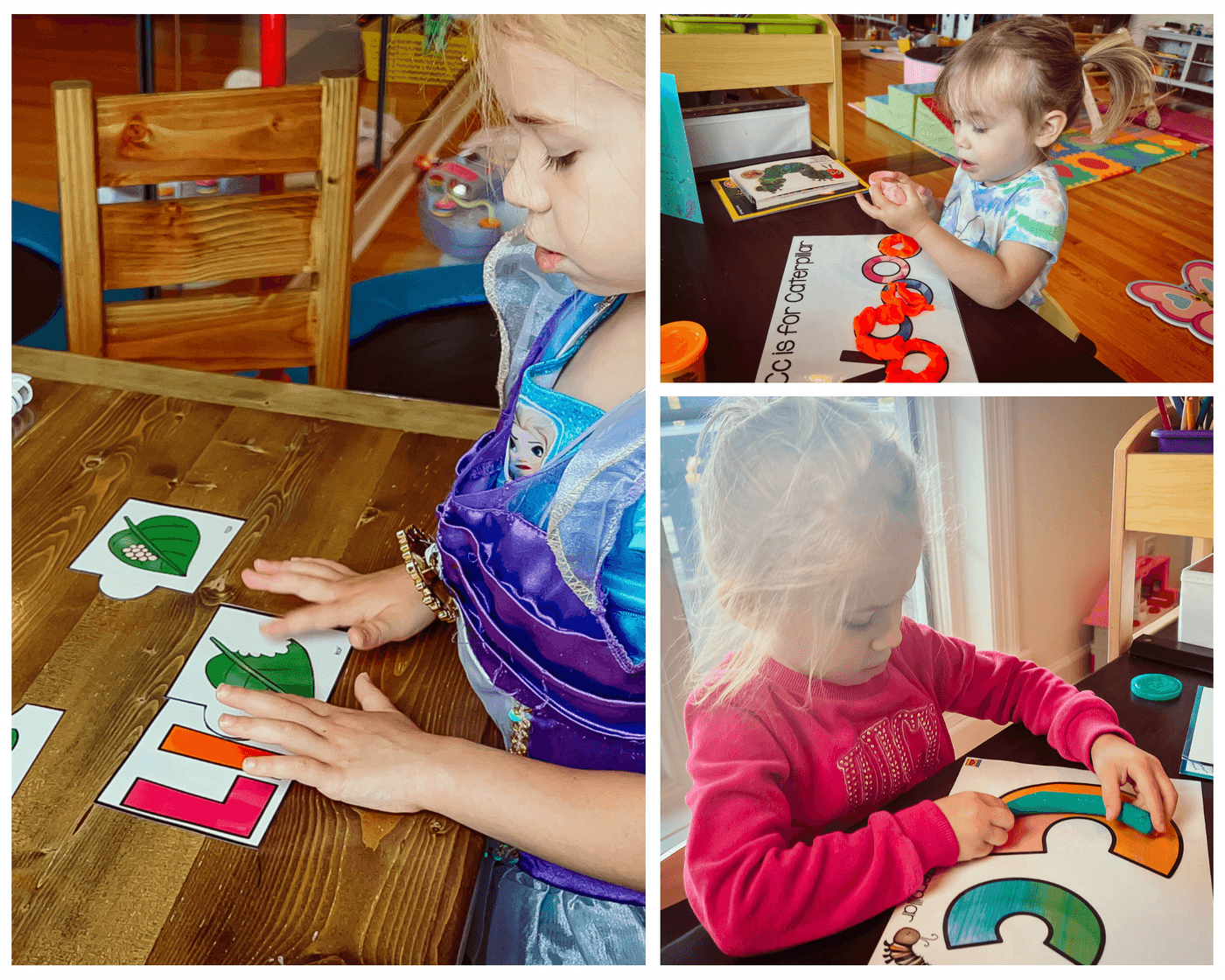 Math Activities
Riley and Olivia engaged in hands-on butterfly themed math games that focused on 1:1 counting, number recognition to 12, 2D shape recognition, and patterns. The counting and number recognition activities included number puzzles, roll and write, and "Butterfly Garden" where you roll a die to count that many butterflies into the garden. The shape games included matching shapes, shape booklets, and using pattern blocks to build stages of the butterfly life cycle. Both girls learned about patterns and colored their own butterfly pattern. Riley completed patterns in the patterns clip card activity. Olivia classified butterflies based on their colors in the "Catch the Butterfly" game. Riley spotted the difference between butterflies, caterpillars, and pupae in the visual discrimination activity.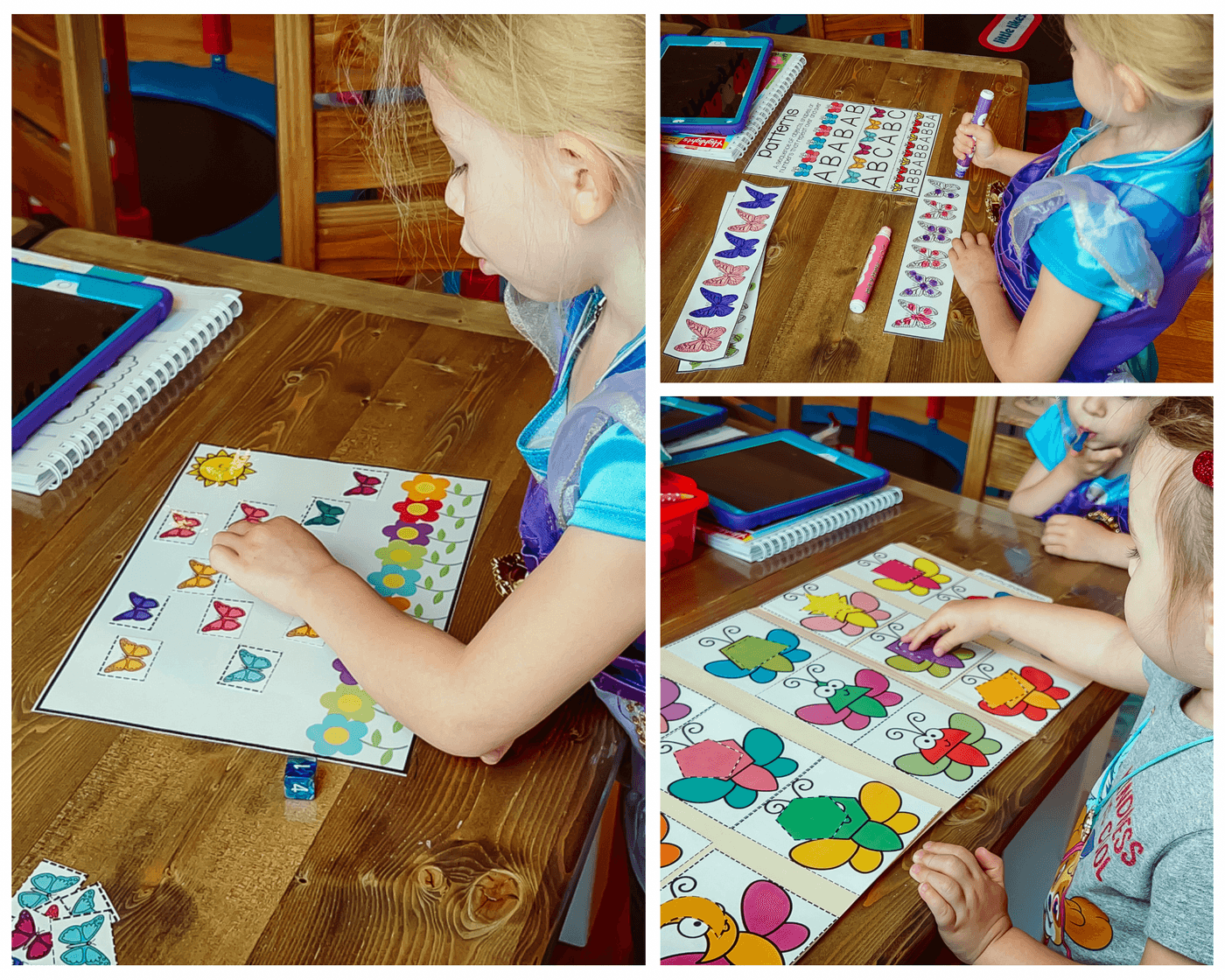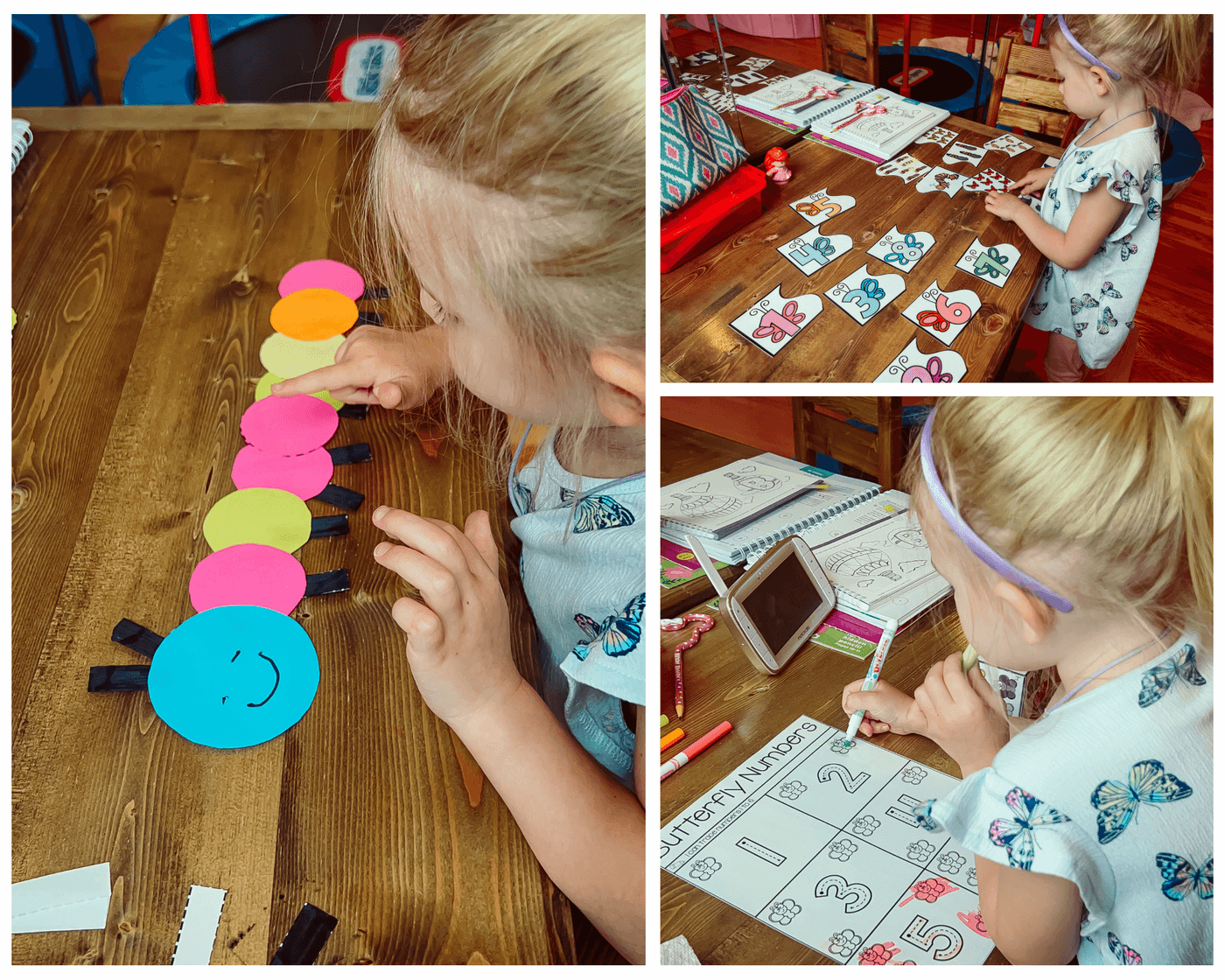 Butterflies: A Preschool Unit
This unit is hands-on, engaging, and developmentally appropriate for 3 to 4 year olds in a classroom and homeschool setting. It includes all the activities shown above and more. There are two weeks worth of science, ELA, math, and fine motor fun along with dramatic play, music, and movement suggestions. You can find more on this comprehensive, thematic unit here